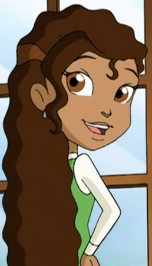 Alma Rodriguez is 17 year old girl and comes from a tight knit Mexican American family. Her horse is Button. She is the best jumper at Horseland.
While living in Mexico her grandfather gave her a medallion of St. Martin of Tours. Later, Alma and her family moved to the United States. Alma's father is the foreman at horseland. He taught her how to ride when she was little.
Besides horse riding, Alma loves to read. Alma is also constantly using the knowledge she learns from her books. This is seen in "Cry Wolf" when Alma claims her friends are sitting in what looks like a picture of poison ivy from a book. She also climbs a tree when being chased by a wolf, as she read wolves can't climb trees.
Appearance
Edit
Alma has dark skin, long brown hair and brown eyes. Her main outfit is a white long sleeve shirt under a green vest. She also wears beige pants and black boots.
When she is competing in competitions, she is shown wearing a white turtleneck under a green blazer. She also has white pants and black gloves and boots.