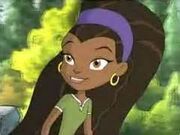 Amber is Molly's other best friend from the city. Amber is confident, playful, and loyal. Neither Jasmine or Amber attend Horseland, but they do express an interest in horseback riding. Despite frequently teasing Molly, the two are genuinely supportive of her interests. Amber is African American, and has light brown eyes and brown hair.
Ad blocker interference detected!
Wikia is a free-to-use site that makes money from advertising. We have a modified experience for viewers using ad blockers

Wikia is not accessible if you've made further modifications. Remove the custom ad blocker rule(s) and the page will load as expected.