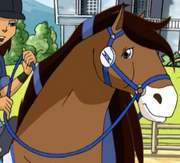 Aztec is Bailey's bay Kiger Mustang with blue highlights. Aztec frequently acts grumpy and nonchalant, but he does genuinely care about his friends and the other animals. He is often protective of his mare friends, much to their chagrin, and has shown great courage and leadership skills. His symbol is a lightning bolt which represents strength.
Ad blocker interference detected!
Wikia is a free-to-use site that makes money from advertising. We have a modified experience for viewers using ad blockers

Wikia is not accessible if you've made further modifications. Remove the custom ad blocker rule(s) and the page will load as expected.