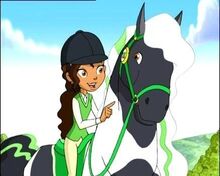 Appearance
Edit
Button is a white pinto with large black patches; her face is black, down to her middle of her neck, and she has a black chest and front legs with long white socks. She has a short black sock on her right hind foot, and a final black patch on her lower back, which merges into her hind legs. Her hooves are a dull sliver, and her eyes a light brown.
Her mane is white with two emerald green highlights in it, and her tail is black with a singular green highlight.
Button's normal riding attire is a darker shade of emerald green than her hair. She has a green bridle with a green, four leaf clover symbol -which represents good luck. She has a white saddle pad with a greenish tint, which is rimmed with a color that resembles a light sliver. Her saddle is a dark green with a light green girth. Occasionally, she is seen with a saddle bag, which is a dark green with light green straps and golden hooks.
In some episodes (such as "A Horse named River" and "The Competition") Button has a Western Saddle. Her Western Saddle has a blanket that is a dark green, rimmed with a leaf green color. Her girth mimics the colors, but has a leaf green base and a dark rim. Her seat is leaf green , with golden colored sides, and two white flowers with two green stings each attached to them. Her horn is golden, along with the stirrups and the buckle. Her bridle remains the same as her normal attire.
In the episode "Talk, Talk" it is seen that Button has a blanket that her owner, Alma, puts on her when it is cold out. The said blanket is neon green with a white rim and golden buckles.
Personality
Edit
Button is very kind and friendly. She likes to make new friends and meet new people and is open to new things. She is very much like Calypso, who is her best friend, since both she and Calypso love to joke around and tease each other. They have each others backs and are shown to be together often and love talking to one another, because their stalls are right next to each other.
Button is friends with all of the horses, although when Pepper and Chile begin making snide comments, Button acquires a short temper and often tries to shut them down as quickly as possible. Even though they annoy her sometimes, she still will playfully tease them and joke with them. She loves to play around with all of the horses.
Another friend she has is Alma, whom she has been with for ten years, coming from Mexico to Horse Land when Alma and her family moved; she has a Mexican accent. She loves to please Alma and works very hard to do so. She is extremely fast and talented, especially at jumping, and has earned the title of "The Best Jumper at Horse Land." When she has to do something important, Button is extremely focused and patient, and is willing to do whatever it takes to get it done, including going over show performances in the pouring rain, or constantly going over jump after jump.
However, when Button gets scared, she tends to bolt. It doesn't take much to her calm her, and when she is in a group she will stay by the other horses to help defend anyone from an apparent danger; but when she is alone, and something scares her, she will find the quickest escape route, abandoning everything to find safety, as seen in the episodes "Cry Wolf" and "Boss Bailey."