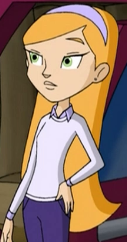 Chloe Stilton er en 13 år gammel jente og betyr ofte mot andre mennesker. Hesten hennes heter Chili.
She is Zoey's older twin sister. They come from a wealthy family and they are quite spoiled by their parents. Chloe likes to make fun of the other riders, but she can sometimes be supportive of them, albeit not very often. While she claims to be the best rider and that she is better at riding than her peers, to her credit, she practices really hard as seen in "Win Some, Lose Some". Her sister, Zoey tells Alma that Chloe has actually been practicing more than anyone at her jumping rather than relying on someone from their mom's childhood to give her a good score. Chloe's practice pays off at the end of this episode as she takes home 1st place for Horseland.
Though Chloe is competitive with her twin sister, Zoey, they still support each other when its important.
Chloe has strawberry-blonde hair and green eyes. She is shown to wear a light purple jumper and a purple headband. She is also very protective of Zoey. Both sisters hate country music and anything that involves western. she is a Gemini.
In the episode, "Heritage Day", Chloe and Zoey stated that they are of French, German, Danish and Czech descent.