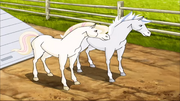 Cream is a cremello colored colt that has light pink highlights. He looks like either Kisses or Windy but in a different shade of white. Although he is younger, Cream talks in a mature voice. He and his fraternal twin sister Sugar only appear in "Oh, Baby" and stay at Horseland while their mom is sick. Scarlet really cares about these foals. The homesick twins decide to leave Horseland after Calypso and Aztec get jealous. However, the guilt stricken horses find the twins and return them to Horseland.
Ad blocker interference detected!
Wikia is a free-to-use site that makes money from advertising. We have a modified experience for viewers using ad blockers

Wikia is not accessible if you've made further modifications. Remove the custom ad blocker rule(s) and the page will load as expected.