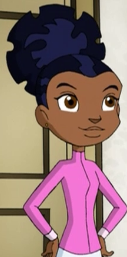 Molly Washington is an 12-year-old African American girl who often deals with life's problems through humor. She is best friends with Alma, Bailey, Sarah, Nani and Will. She makes fun of herself and, at times, her friends, which causes them to get annoyed at the fact that she doesn't seem to take much seriously. However, Molly can become serious and was afraid riding on Calypso in "Back in the Saddle". She has two best friends living in the city named Jasmine and Amber. Molly's dad is a dentist. She also has a younger sister named Lisa.
Ad blocker interference detected!
Wikia is a free-to-use site that makes money from advertising. We have a modified experience for viewers using ad blockers

Wikia is not accessible if you've made further modifications. Remove the custom ad blocker rule(s) and the page will load as expected.