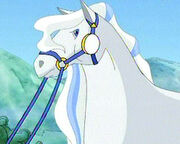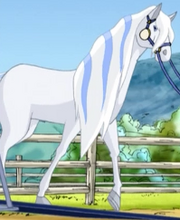 Prince is a white Thoroughbred male and is Mary's horse. Sarah temporarily rode him in Scarlet's place in order to train him before Mary began to ride him, as well as to let Mary ride Scarlet to see if Mary was ready for the full responsibility of owning her own horse. He also has a white wavy mane and tail with periwinkle highlights. His bridle is blue.
Ad blocker interference detected!
Wikia is a free-to-use site that makes money from advertising. We have a modified experience for viewers using ad blockers

Wikia is not accessible if you've made further modifications. Remove the custom ad blocker rule(s) and the page will load as expected.