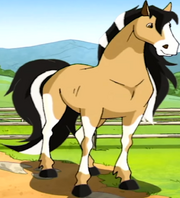 Puma is a buckskin pinto wild mustang staying at Horseland. His mane and tail are highlighted in black and white. His only appearance is in the episode "Wild Horses", where he tells Aztec what it's like to live in the wild, prompting Aztec to run away. Puma eventually accepts his new life. Puma loves oats. 
Puma is a wild horse that has color highlights, wild horses have no color highlights.
Ad blocker interference detected!
Wikia is a free-to-use site that makes money from advertising. We have a modified experience for viewers using ad blockers

Wikia is not accessible if you've made further modifications. Remove the custom ad blocker rule(s) and the page will load as expected.