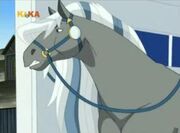 River is a famous racehorse that comes to Horseland to recuperate from a leg injury. He is dark grey with a white mane and tail, and has light blue highlights. His only appearance is "A Horse Named River" and according to this episode, he is the eldest horse who speaks with an elderly voice. He was younger and belonged to an unnamed girl in flashbacks. Chili wants to be just like River.
Ad blocker interference detected!
Wikia is a free-to-use site that makes money from advertising. We have a modified experience for viewers using ad blockers

Wikia is not accessible if you've made further modifications. Remove the custom ad blocker rule(s) and the page will load as expected.