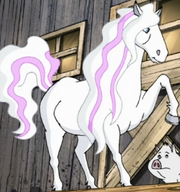 Windy is a mare who looks like Kisses and wears an ornate bridle. She also has a wavy mane and tail with light pink highlights. She doesn't understand English and only understands Icelandic, so when any horse like Scarlet as an example introduce themselves, Windy becomes too shy to respond. She belongs to Princess Linia. Windy is unique because her owner has straight hair but windy has a wavy mane however for Kisses and her owner it is the complete opposite.
Ad blocker interference detected!
Wikia is a free-to-use site that makes money from advertising. We have a modified experience for viewers using ad blockers

Wikia is not accessible if you've made further modifications. Remove the custom ad blocker rule(s) and the page will load as expected.